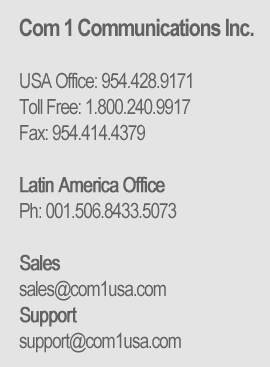 Dedicated Servers
Dedicated Servers - Full Managed Hosting Solutions
Com 1 Communications has been providing world-class dedicated server hosting with award-winning technical support and service since 1995. Our hosting plans are designed to serve both professional web developers and small businesses alike.
All of the Com 1 Communications datacenters are staffed 24/7 on-site by our Support Engineers. This allows us to provide an unmatched level of security and reliability by responding to issues directly.

At Com 1 Communications Managed Support Services are included with all dedicated server plans. Our Managed Support Services include 24 hour pro-active server level monitoring, pro-active service restoration and the peace of mind of a 100% network uptime guarantee.

WHAT MAKES US DIFFERENT?
Com 1 Communications Dedicated Servers are fully managed and come with our complete management package. This includes hardware management, network management, operating system and software support, proactive security patches and updates, proactive monitoring, firewall, spam prevention, server hardening and more.

We also offer advanced application management for specialized projects. For more information, please visit our support section.
Our comprehensive group of server upgrades enable our clients to design a complete hosting solution.

» Firewall
» Load Balancer
» Guardian Continuous Backup
» Private Switch
» Terabyte Backup
» Remote KVM


click here for more information, and/or call us for a free, no obligation phone consultation.