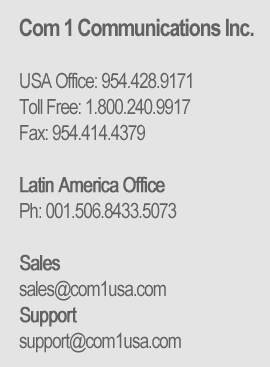 Streaming Video
Real Video For Your Website
Com 1 Communications Streaming Video Services can help you achieve better results from your EXISTING web pages by greeting, guiding, educating, and selling more effectively with real people delivering targeted messages.

We can produce and install a  streaming video for your website that will help deliver your message, or demonstrate your product or service more effectively.
Com 1 Communications is a pioneer in the field of borderless video. This state-of-the-art video technology offers borderless video shot in high definition. Let your company spokesperson, or one of our spokes models, to personally greet and guide your visitors through your website.

In today's crowded online marketplace, driving visitors to your website through pay-per-click advertising, search engine optimization and good website design has become essential. But simply driving traffic to your site is only the beginning. Converting visitors into customers is the key to online success.

The secret is to understand the customer's motivation and to deliver the right message in a precise, powerful way. Video streaming does just that.

By placing a streaming video of a moving, talking person on your website, visitors are quickly engaged and your key message is delivered immediately and in person.

With online attention spans being notoriously short, the first few seconds of a visitor's experience of your website are vital and Streaming Video can help keep you one step ahead of the competition. As well as greeting visitors and delivering sales messages, the Streaming Video could also point out buttons or features of your site's navigation, encouraging visitors to click through to relevant pages.

Whether you need to build more customer loyalty/trust or aim to deliver professional online training presentations to your clients/customers; Com 1 Communications Streaming Video Services is the solution you need in today's competitive online marketplace.

click here for more information, and/or call us for a free, no obligation phone consultation.