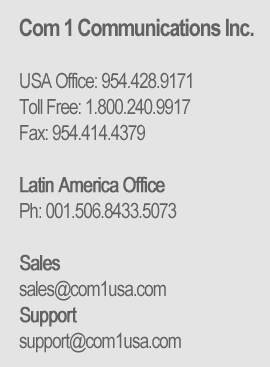 Terms & Conditions
COM1 COMMUNICATIONS operates in adherence to the terms and conditions stipulated in this document, whether express or implied. Being a visitor to our website or client of our company signifies your acceptance of these terms and conditions.
Our Services

We offer our services as a fair representation of the skills and knowledge we possess. When you become a client of COM1 COMMUNICATIONS, you agree to allow us to complete your project using these skills.
Process

In response to your enquiry, you will receive a quote from COM1 COMMUNICATIONS. This quote is applicable for 60 days only: if it has not been accepted by this time, a new quote will need to be issued. Once the quote has been accepted by you, the amount is binding and becomes a contractual agreement. Work completed in addition to that outlined in your quote will be considered a new project and a separate quote will be drawn up for additional work.

You will be required to pay a deposit of 50 percent before work begins on your project. This deposit is non-refundable and no special conditions will be made for refunding your deposit.
Ownership

Once your project has been completed, it remains the property of and copyright under COM1 COMMUNICATIONS until final payment is made. After the balance of your account has been paid, all copyright and intellectual property is transferred to you. No ownership of projects is retained by COM1 COMMUNICATIONS, but we do reserve the right to display copies of your work as part of portfolios or promotional material.
Service Cancellation

If, for any reason, you wish to terminate your project with COM1 COMMUNICATIONS, you will forfeit all ownership of existing concepts and ideas. Your deposit will not be refunded and you will not be eligible to take work that has already been completed. You are not eligible to take existing ideas and have them reproduced by a third party. Any breach of copyright after a service has been cancelled will be handled by our legal team.
Errors

Although COM1 COMMUNICATIONS makes every effort to ensure correct spelling, grammar, punctuation, color matching and so on, there is always some room for error in any task undertaken by a human team. You are required to check and double check your printable material for errors and omissions before it is sent to be printed. COM1 COMMUNICATIONS will assume responsibility for changing/fixing anything that is found to be incorrect as regards to your website, for a period of 30 days after the website has been published.
If website is thereafter hosted with us, we will make changes to the website free of charge as long as your keep your hosting account current.

Payment Terms

Your project will not be released to you until final payment is made. If payment has not been made after 14 days, you will be sent a reminder notice. If your account remains unpaid after 31 days, an additional late fee will be applied to your invoice. If payment still has not been made after 60 days, it will be referred to a collection agency.
Projects that are not paid within 15 days of completion will be removed from COM1 COMMUNICATIONS and archived. After final balance is paid- we will restore the website OR send you a copy of all website files and databases.