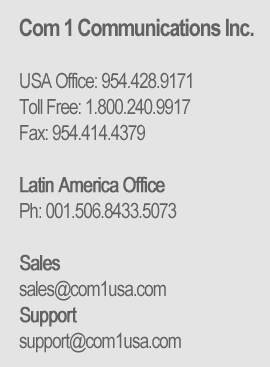 Software Development
Do You Need a Qualified Software Developer?
Developing software is expensive. It is not uncommon for companies to charge $75-$100 or more per hour. Realistically, not many small businesses can afford it. But hiring full-time staff is also expensive. Hiring costs, benefits, taxes - not to mention hardware and software costs. It all adds up pretty fast.

Yet, almost every company needs software assistance. Maybe your existing web site needs a special application, or you are building a new software application to improve efficiency, or reduce costs. Whatever your reasons, there is an immense need for affordable and reliable software developers.

Com1Dev (a division of Com 1 Communications Inc.)  our in-house software development team - takes an experienced, professional view of your software project, and leverages our combined 25 years of software development experience, to deliver the software project inexpensively and on-time.

Com1Dev offers the advantage of far lower costs - as much as 75% off traditional firms, while providing the oversight and security you demand to get the job done right. We only hire the best people available. We pay our people 25-30% above industry averages, and they program to strict industry standards. We do not farm any work out to 3rd parties or act as a middleman.
We also provide private label and white label software solutions. Call our Dev Team for more information.

See Project Management-Step by Step

Save time and money by integrating with QuickBooks!

Through our experience creating applications that integrate with QuickBooks, we've found many businesses are using QuickBooks as a tool to manage their finances and operations. QuickBooks is the number one small business financial management application on the market today. Financial management is where QuickBooks strength lies not in managing your operations. That's where New World Technologies comes in, we build applications based on the requirements of your operations that are integrated with QuickBooks.

Because no two businesses operate exactly the same, even businesses in the same industry, we highly recommend custom software solutions to our clients. Custom solutions are tailored to your business operations leaving no gaps between Sales, Operations and Accounting.
click here for more information, and/or call us for a free, no obligation phone consultation.