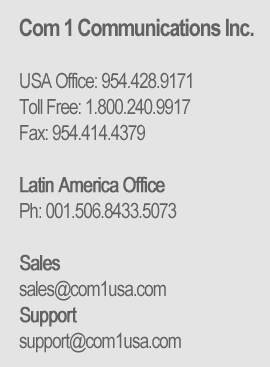 Customer Service
If you need help we offer several different types of assistance. Our goal is to ensure your success with Com 1 Communications  and deliver a prompt solution or answer to your questions or concerns.. We offer Community, Enterprise and Global Support Service Levels.
Community Support - Documentation, and Forums  are available to anyone for answers to basic technical questions. These resources are always available to provide you with an immediate answer.


Enterprise Support - Direct access to our Customer Support Team by phone. And the ability to manage your cases online. This is available free of charge to all of our customers.


Global Support - 24x7x365 support for critical issues, a dedicated resource to manage your account and online, secure review of your deployments.
Live Support - Live Support Available throughout the day- times vary. Click below icon to chat with support team , or if they are offline, leave a message.


Education Programs
Com 1 Communications offers courses from time to time, with the goal of helping our customers make educated decisions concerning their internet security needs. Our Education Programs include a regular schedule of web-based classes for Com 1 Communications  users, administrators, developers, architects and partners. We can also come on-site to deliver classroom training, where applicable.
Professional E-Commerce Related Services
Com 1 Communications experts in our E-Commerce Deployment team are available to help you with design, installation, configuration, customization and integration of a wide variety of E-Commerce Solutions.