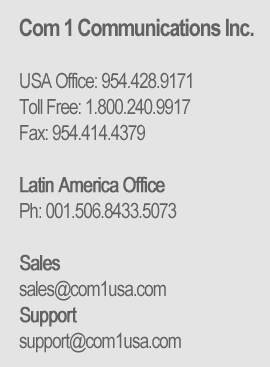 Social Media Development
Social Media Development & Marketing
The successful rollout of any brand initiative on major social networks now requires a comprehensive media plan, including strategy formulation, promotion, and development.

Com 1 Communication's experience with social media has lead us to combine in-house strategic, media buying, and engineering resources to ensure the best possible results for our clients.

Services include:

- Strategy and Design
- Viral Application Development
- Branded Applications

Strategy and Design

Com 1 Communications understands social media development and marketing. Our experts look across the social world, working with clients to determine what networks and methods are most appropriate for the audience they're trying to reach and the goals they're trying to achieve.

We design campaigns that combine our client's assets with creative concepts, giving people new ways of socializing with their friends, building brand engagement for clients, and providing real value to end users.
Viral Application Development

As advertising transitions from a push to pull medium, companies are seeking ways to interact with their audience, provide them with functionality, and still express brand attributes and benefits. We combine client's goals with strategic concepts designed to deliver brand messaging while simultaneously providing users with a fun and engaging experience.

Good ideas aren't worth very much without people to implement them, so we put significant development resources in our client's hands. All engineers work in-house, speeding campaign execution time, eliminating "lost in translation" issues, and limiting risk.


Branded Applications
Com 1 Communications builds and maintains presence for clients on branded social network pages. These pages can contain relevant information about the brand, discussion boards, polls and quizzes, videos, photos, links to offsite promotions, and custom developed applications.
Not only do these pages serve as an anchor for campaigns, but the pages can also provide interaction  that promotes viral growth.
click here for more information, and/or call us for a free, no obligation phone consultation.