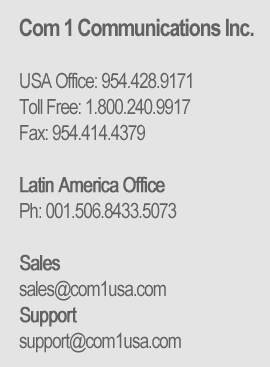 Remote Backup
Simple, Automatic, Secure Online Backup

Chances are you have a lot of important stuff on your computer like financial documents, email, digital photos, music and more. Unfortunately, computers are vulnerable to hard drive crashes, virus attacks, theft and natural disasters, which can erase everything in an instant.
Reliable data backup and recovery are critical to today's information-driven enterprise remote offices as well as small and medium-sized businesses.

Traditional server backup methods are not always ideally suited to this challenge. Once-a-day backups leave you vulnerable to data losses and trouble recovering data quickly in the event of a data corruption, virus or other disaster. Lack of adequate IT staff can also result in inconsistent backup procedures and failed data recovery. Further, traditional backup tasks can be time consuming and keep your valuable IT staff from performing other mission-critical tasks to advance your business.

Com 1 Communication's IovaDriveTM is the complete data backup and recovery solution for remote offices and small & medium-sized businesses. Combining proven disk and online technologies, IovaDriveTM radically simplifies the protection of all your company's servers, including file, database, application and Exchange servers - virtually eliminating the risks and burdens of traditional backup methods.

IovaDriveTM  server backup and recovery fully automates and streamlines the protection of your data through the following essential functions:

Continuous backup - IovaDriveTM  continuously protects your distributed data, from any location, ensuring complete recovery after a loss

Fully automated backup - Backups occur automatically over the Internet or via private network connection. No manual staff intervention is required

Rapid recovery - our unique technology automatically recovers only the data that has changed since your last backup, accelerating recovery so you can resume operations almost immediately after a data loss

Built-in protection of open files and databases - IovaDriveTM provides built-in support for open file and database backup without complex plug-ins or costly third-party tools

Web-based management - Through a Web portal interface, you have point-and-click access to your data - at any time, from anywhere - for simplified backup and recovery


click here for more information, and/or call us for a free, no obligation phone consultation.